GMSL Principal Consultant:  RAdm Nigel S. Greenwood, CMM, CD, RCN (Ret'd)
Nigel Greenwood completed a 37-year naval career as the Commander of Canada's Pacific naval forces. In this role he was responsible for: defence of Canada's western maritime approaches; generation of ready forces for deployment to international maritime operations; Search and Rescue in the Pacific Northwest and over the landmass of BC and the Yukon; assistance to civil authorities for domestic emergencies and law enforcement; and maintenance of Canada's maritime defence relations in the Pacific.
In earlier appointments, RAdm Greenwood served as Deputy Commander of the RCN, Commander of the Pacific Fleet, Base Commander of Canadian Forces Base Halifax in Nova Scotia, and Captain of HMCS OTTAWA (FFH 341). His early seagoing experience featured specialization in shipboard air-control and navigation, with service in Anti-Submarine Warfare tactical development and operations analysis as an exchange officer with the United States Navy.
Greenwood's initial BSc in Oceanography and Physics was supplemented throughout his career with diplomas in command and staff duties, executive business management, and Asia-Pacific affairs. In 2006 he completed an MA in International Relations (with Distinction) at King's College London while attending the Royal College of Defence Studies. He holds a current Certificate of Competency as a Master Mariner, and is a Fellow of both the Royal Institute of Navigation and the Nautical Institute. He is also licensed as a security consultant and qualified as an Ice Navigator.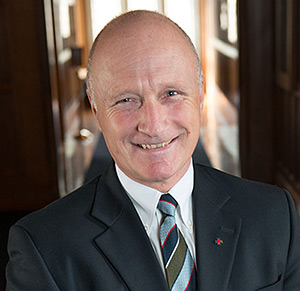 MA in International Relations (with Distinction) (KCL/RCDS, 2006)

Master Mariner (1999; renewed Sep 2016-2021, current to STCW95 with GMDSS GOC)

BSc in Physics and Oceanography (RRMC 1979)
Nuclear Emergency Response Commander, 2001

Command and Staff Course, Canadian Forces College Toronto (1992)

Executive Business Course, Kenan-Flagler Business School, UNC (2007)
Executive Course, Asia Pacific Center for Security Studies (2000)

MUN Marine Institute Ice Navigation Course 2013

USN Arctic Operations Course (1989)
Awards:
Order of Military Merit (Officer 2005, promoted Commander 2010)
Queen's Diamond Jubilee Medal (2012)
Maritime Commander's Commendation (1999, OP PERSISTENCE)
Canadian Forces Decoration with two clasps
Recent Appointments:
Chair, BC Branch of the Nautical Institute (2016-17)
Mentor, Navigation Simulator, Naval Officers' Training Centre VENTURE (2013-16)
HTRA Team Leader, Cdn Corps of Commissionaires (2013-14)
Emergency Management Team Leader, Lansdowne Technologies Inc. (2013-18)
Associate, International Safety Research Inc. (2013-2018)
Associate, Calian Group Ltd. (2018-present)
Industry Network:
Pacific Pilotage Authority
Martech Polar Consultants Ltd
Calian Group Ltd.
Transport Canada
Canadian Hydrographic Service
Prince Rupert Port Authority
Chamber of Shipping of BC
Canadian Corps of Commissionaires (Victoria, the Islands and Yukon)
Nautical Institute (BC Branch)
Royal Institute of Navigation
Royal Canadian Sea Cadets